Ecohelix has teamed up with Sweco, Eurocon Oy and AFRY AB to build a modern production facility entirely from wood. This highly ecological production plant planned for Örnsköldsvik in Sweden will produce 15 000 tons of renewable wood-based polymeric products. Ecohelix WOODMER® biopolymer can be used as sustainable component in paper chemical, packaging and cosmetics formulations.
Ecohelix has created an industry first and commercially scalable technology using currently untapped hemicellulose as a raw material in biopolymer production. Patented technology uses biotechnology and membrane filtration to produce a wood-based hemicellulose/lignin copolymer, by mimicking the way wood itself does so in nature
This first production plant will be integrated to Domsjö Fabriker´s pulp mill in Örnsköldsvik, Sweden. As a circular economy company, Ecohelix follows the principles of sustainability and circularity also in the production plant's construction exclusively using wood, which today is still quite novel.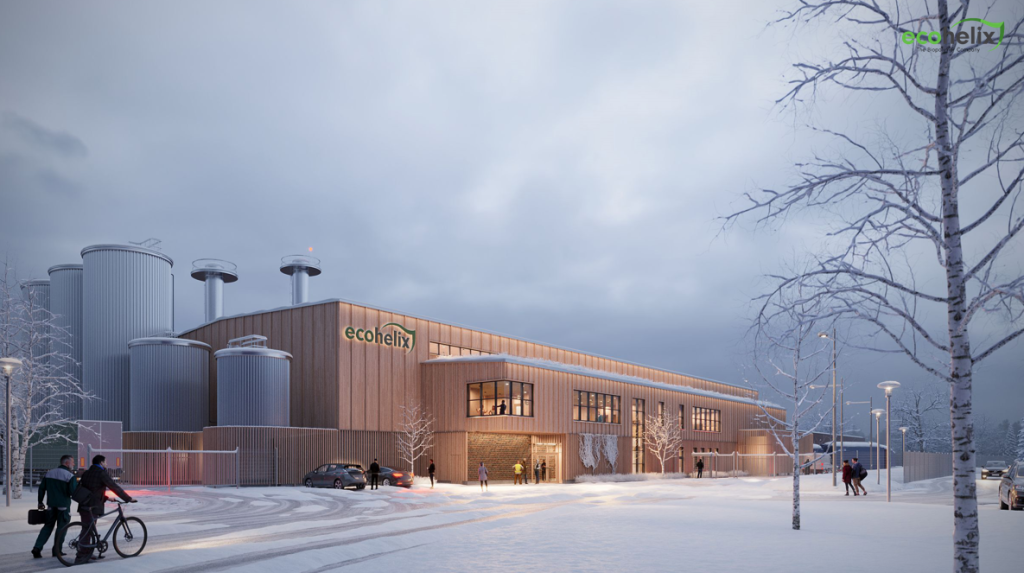 Putting sustainability first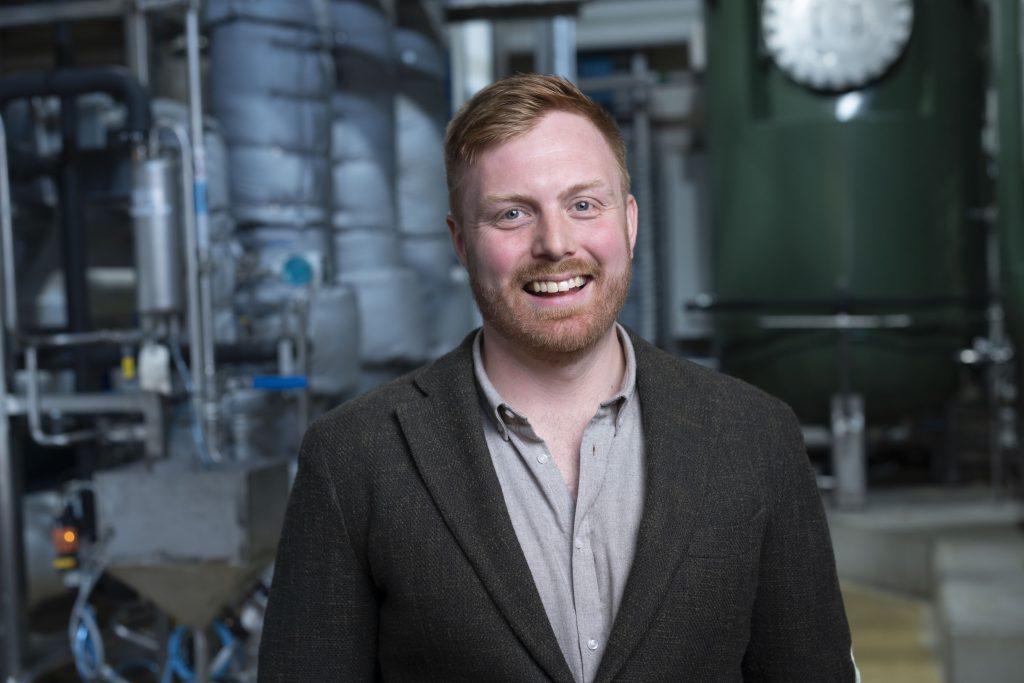 "We follow our principles and values in everything we do. We are curious, deliver what´s agreed and respect nature. That´s why we selected an innovative and sustainable approach, also when planning and building our production facilities. As the Ecohelix production unit in Domsjö will be built completely from wood, we are using the same natural material in the construction, as we use as a raw material in our production," said Oskar Schmidt, Ecohelix Chief Technology Officer.
"And it´s not only about the environment or about being close to nature, but also from the wellbeing and aesthetic perspective. According to many studies, working and being in a wooden building is a positive experience and we want to provide such a workplace for future Ecohelix employees. For those people who want to work in a sustainable and inspiring environment that supports their wellbeing, this is also a competitive advantage that attracts talent to work for Ecohelix," he added.
Sweco leads the way with wood construction in industrial buildings
Sweco is Europe´s leading architecture and engineering consultancy with a long history and demonstrable competence in wood construction. While eco-friendliness and aesthetics increase the popularity of wood construction, using wood as a construction for industrial buildings is still not that common.
"There are only few industrial buildings in Sweden built in wood, and I dare to claim that the Ecohelix project is one of a kind. Recently, the entire wood industry has taken great strides forward and there are now technologies and tools available to carry out all kind of wooden constructions without major challenges. It´s about daring to try something new, rather than believing that it´s still limited with technical challenges.
When we were assigned to the planning work of Ecohelix production site, we wanted to think creatively and innovatively with climate-smart materials, since Ecohelix itself is a company that works with sustainable materials, and no one objected when I proposed a wooden framed building. We continued in that direction with wood in facades, stairs, and rafters. Another thing that makes the Ecohelix production site unique as an industrial building is, that we have consistently chosen climate-smart materials and designed a green roof with living vegetation as well as solar panels for the roof," said Merve Olsson Sarr, Head of Structural Engineers, Green Transition Business Developer at Sweco.
Connecting to the core
Building a full-scale production site needs careful planning, consistent project management and highly skilled and likeminded partners. Ecohelix Domsjö project partners Sweco, Eurocon and AFRY, all represent the highest level of knowledge and expertise in their fields.
"Open minded and trustworthy partners are needed specifically when you are integrating the production to an existing, well-established production site as we do in Domsjö. We are connecting Ecohelix production directly to the 'heart' of the Domsjö pulp mill. The starting point is that we cannot negatively affect the core process of Domsjö, which sets very high requirements for the production construction. Actually, we see the Ecohelix production unit as an opportunity to a host mill to improve their process and production capacity, since Ecohelix unit works more or less as a cleaning unit in the recovery system of the pulp mill, helping to handle non-productive side streams."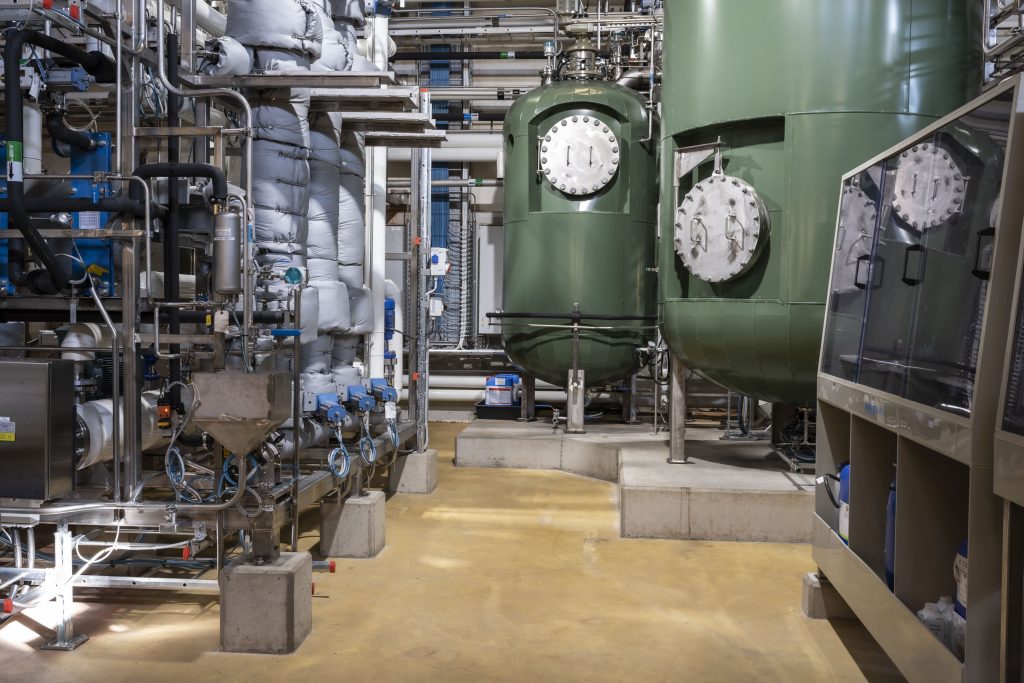 The ability to use hemicellulose as a raw material is a remarkable step in the development of sustainable material technology. It´s the ability to utilize more from wood, also the remaining 20-25% on top of cellulose and lignin, which have had well established processes to be utilized already for decades. Hemicellulose is stubborn in nature, and it has a complex structure, so it´s not easy to use as a material component. But using the unique Ecohelix technology it´s now possible to control the features of this raw material. We take hemicellulose from the pulp side stream and use a natural, biomimicking process to create its attributes, increasing the molecular weight and making the structures more consistent. In practise we combine hemicellulose and lignin, assist the process with a natural laccase enzyme and the end result is a stable, high performing co-polymer.
Planning, growing and leading
Oskar Schmidt describes his role in this project: "My role as a project owner is to keep everything under control and steer the project towards the end goal. It´s about process engineering, project management and business development and in practise sitting in the planning table and having project meetings with the project team. It has been much about building up an organization, which can take care of itself and solve this type of quite difficult technical challenge. For me personally, this project is also about growing from being a pure process engineer to a leader, who can lead the project, provide the support and right conditions for the team to make things happen and to deliver what´s agreed," Oskar summarizes.
"There are also lots of very practical topics, such as meeting environmental planning, making the process engineering, establishing construction permits and further procuring construction materials and equipment. It´s also about making the decisions based on evaluations and facts, sometimes also trusting your gut to confirm that you are making the right decision."
"After receiving the environmental and construction licenses from the authorities, we can move ahead towards the detailed engineering, construction and commissioning of the full-scale plant. When that happens, we will start delivering sustainable material components to the formulators and brand owners around the world and our production from Domsjö will find its way into various day-to-day products, in packaging, construction and cosmetics. All of these will help to make the everyday life of consumers more sustainable,", Oskar concludes.
You can read more about the project also at Sweco´s website.